Conscious Leadership Scenario:
PART THREE of Why You Will Never Be a Great Leader addressed the foundation of what every great team must face, Lack of Commitment. [you can find PART THREE in our archived library]
Like many other aspects of life, teamwork comes down to mastering a set of behaviors that are at once theoretically uncomplicated but extremely difficult to put into practice day after day, time, and time again.
The "Never Slow Down Business Model" is driving your team into an Absence of Trust, Fear of Conflict, Lack of Commitment, Avoidance of Accountability, and Inattention to results. These obstacles are unavoidable, but what you do to face these challenges is critical to optimizing your team's performance.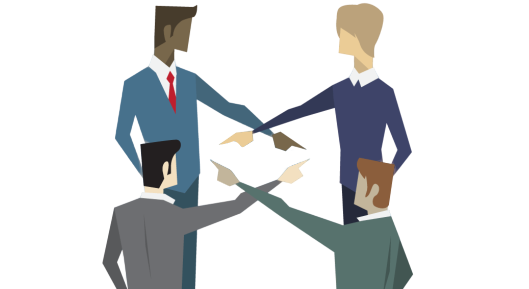 We will focus on avoidance of accountability today.
Leadership Fail: Avoidance of Accountability From Your Team
You are buried in corporate goals, division goals, personal goals, maintaining budgets, and managing your team to gain the ultimate competitive advantage. The building, mentoring, and nurturing your team takes an immense amount of time. You will never, ever never, SLOW DOWN [It's impossible to slow down, right?], and invest the proper amount of time to ensure there isn't avoidance of accountability from your team. Great teams move forward with absolute clarity and buy-in from the entire team. In order for teammates to call each other on their behaviors and actions, there must be a clear sense of what is expected from each team member. Successful teams are willing to call their peers on performance or behaviors that may hurt the team.
Negative Affect on Culture and Organizational Performance:
Teams that Avoid Accountability…
Creates resentment among team members who have different standards of performance.
Encourages mediocrity and encourages high performers to slack on performance levels.
Effects the organization's brand and reputation when deadlines and key deliverables are missed.
Places a huge amount of strain on the team leader to be the sole source of accountability – Head Finger Pointer.
Conscious Leadership Solution:
The first big step in ensuring your team is focused on accountability is to ensure poor performers feel pressure from the ENTIRE team to improve. This approach will quickly identify potential problems by bringing into question one's approach to specific situations. This level of candor establishes quick respect and develops a higher standard.
Announcement of Goals and Vision: Instant clarity of the team's goals and individual performances that will need to be reached to hit these markers needs clarified in the beginning. The enemy of accountability is ambiguity, and even when a team has committed to a plan, it is important to keep these agreements front and center throughout the execution.

Regular Progress Reports: These regular progress reports must be kept simple. Teammates should regularly communicate with each other, either verbally or in written form. This level of dialogue should clearly define how you feel your teammates are hitting fixed objectives.

Team Rewards: I highly recommend organizations shift from individual rewards and come back to Team Awards. This Team Focused shift creates a strong culture of accountability. This occurs because a team is unlikely to stand by quietly and fail because a peer isn't pulling their weight.
Each of these tools can have a significant impact on a team's ability to become laser focused on accountability.
So, at Thomas & Taylor Partners, we are here to help. For us, our purpose is leadership for a better world, and we are here to help you in showing up as the leader you need to be. We are here to support you globally. We are on this journey together. This is an invitation, an invitation to join us in creating a collaborative movement: the movement that is leadership for a better world.
Live2Lead
Travis